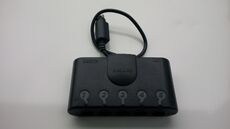 The only drawback to the
TurboGrafx-16
system was that it only had one controller port. This was rectified using the Turbo Tap adapter, released in 1989, which allowed you to have up to five controllers hooked up to the video game console. It was sold for $17.99.
Model: HES-TAP-01
Dimensions: 5-1/2" W (140mm) x 3" D (76mm) x 1-1/4" H (32mm)
Ad blocker interference detected!
Wikia is a free-to-use site that makes money from advertising. We have a modified experience for viewers using ad blockers

Wikia is not accessible if you've made further modifications. Remove the custom ad blocker rule(s) and the page will load as expected.