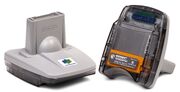 The Transfer Pak (64GBパック, 64 Game Boy Pack) is an accessory that plugged into the controller and allowed the Nintendo 64 to transfer data between Game Boy or Game Boy Color games and N64 games. The Transfer Pak has a Game Boy Color slot and a part that fits onto the expansion port of the N64 controller. It was included with the game Pokémon Stadium, as the game's main feature was importing Pokémon teams from Game Boy titles.
Ad blocker interference detected!
Wikia is a free-to-use site that makes money from advertising. We have a modified experience for viewers using ad blockers

Wikia is not accessible if you've made further modifications. Remove the custom ad blocker rule(s) and the page will load as expected.