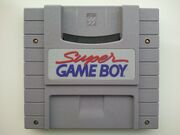 The Super Game Boy was released in 1994 as a means to allow one to play Nintendo Game Boy games on televisions. Due to using an even quotient of the Super NES's clock speed, it runs the game program and it's audio 2.4% faster than an actual Game Boy, despite being built of the same hardware; The Japan only Super Game Boy 2 rectifies this problem.
Internal Hardware and Cartridge Shell
Edit
Ad blocker interference detected!
Wikia is a free-to-use site that makes money from advertising. We have a modified experience for viewers using ad blockers

Wikia is not accessible if you've made further modifications. Remove the custom ad blocker rule(s) and the page will load as expected.