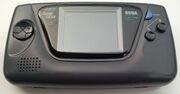 Released in Japan on October 6th, 1990, and then on April 26th of 1991 in North America and Europe, the Sega Game Gear was Sega's response to Nintendo's popular
Game Boy
portable console. Touting color graphics and an illuminated screen, the Game Gear was poised to surpass the competitionon technical merits alone, but the initial price of $149.99 and the lackluster battery life were as an albatross hung from the Game Gear's proverbial neck.
Ad blocker interference detected!
Wikia is a free-to-use site that makes money from advertising. We have a modified experience for viewers using ad blockers

Wikia is not accessible if you've made further modifications. Remove the custom ad blocker rule(s) and the page will load as expected.