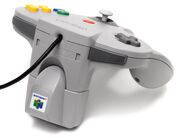 The Rumble Pak (振動パック) is a removable device from Nintendo which provides force feedback while playing video games. Games that support the Rumble Pak cause it to vibrate in select situations, such as when firing a weapon or receiving damage, to immerse the player in the game. Versions of the Rumble Pak are available for the
Nintendo 64
, the
Nintendo DS
, and the Nintendo DS Lite.
Several thirdparty versions of the Rumble Pak, such as the Tremor Pak, followed. Some draw power from the controller instead of batteries, but the lower power makes them less effective. The TremorPak Plus allows a memory card to be inserted simultaneously, eliminating the need to switch between two accessories. The Nyko Hyper Pak Plus contains internal memory and allows the user to adjust the amount of feedback between "hard" and "too hard".
Ad blocker interference detected!
Wikia is a free-to-use site that makes money from advertising. We have a modified experience for viewers using ad blockers

Wikia is not accessible if you've made further modifications. Remove the custom ad blocker rule(s) and the page will load as expected.