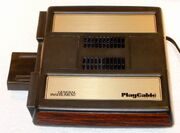 Probably the most interesting accessory for the Intellivision was PlayCable, an adapter that plugged into the cartridge port. For $4.95, the cable company would transmit PlayCable subscribers 20 Intellivision games a month. All you did was select the game you wanted to play from a menu, and the game would download into the adapter's RAM (taking about 10 seconds). The Intellivision would then read the PlayCable's memory as if it were a game cartridge. Every month, the games would be rotated or changed, and users would receive new instruction books and overlays for each new game in the mail.
Subscribers rented the PlayCable Adapters from the cable companies. When the system was discontinued in 1983, despite being pretty popular in the areas that offered it, the adapters had to be returned.
Ad blocker interference detected!
Wikia is a free-to-use site that makes money from advertising. We have a modified experience for viewers using ad blockers

Wikia is not accessible if you've made further modifications. Remove the custom ad blocker rule(s) and the page will load as expected.