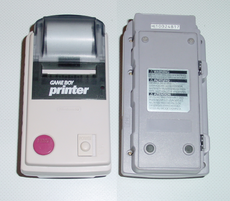 The Game Boy Printer, known in Japan as the Pocket Printer (ポケットプリンタ Poketto Purintā), is a thermal printer accessory released by Nintendo in 1998, while it ceased manufacture in early 2003. The Game Boy Printer is compatible with all the Game Boy systems except the Game Boy Micro, and is designed to be used in conjunction with the Game Boy Camera. It runs on six AA batteries and uses a special 3.8 cm wide thermal paper with adhesive backing, sold in white, red, yellow and blue colors.
Ad blocker interference detected!
Wikia is a free-to-use site that makes money from advertising. We have a modified experience for viewers using ad blockers

Wikia is not accessible if you've made further modifications. Remove the custom ad blocker rule(s) and the page will load as expected.