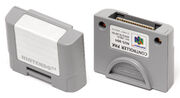 The Controller Pak (コントローラパック) is the console's memory card, comparable to those seen in the PlayStation and other CD-ROM-based video game consoles. Certain games allowed saving of game files to the Controller Pak, which plugged into the back of the Nintendo 64 controller (as did the Rumble Pak and Transfer Pak). The Controller Pak was marketed as a way to exchange data with other Nintendo 64 owners, since information saved on the game cartridge could not be transferred to another cartridge.
It is plugged into the controller and allowed the player to save game progress and configuration. The original models from Nintendo offered 256 kilobits (32KB) battery backed SRAM, split into 123 pages with a limitation of 16 save files, but third party models had much more, often in the form of 4 selectable memory bank of 256kbits. The number of pages that a game occupied varied (sometimes, it used the entire card). It is powered by a common CR2032 battery.
Ad blocker interference detected!
Wikia is a free-to-use site that makes money from advertising. We have a modified experience for viewers using ad blockers

Wikia is not accessible if you've made further modifications. Remove the custom ad blocker rule(s) and the page will load as expected.